Does FCC FY18 Budget Have the Resources for What Chmn. Pai Promised in 3/17 CMU Speech?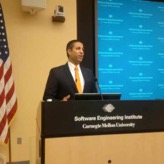 On March 15, 2017 Chairman Pai went to Carnegie-Mellon University in Pittsburgh and gave a
major speech
. CMU was also the site of his first speech after becoming an FCC commissioner in 2015.
6/20 Senate testimony http://transition.fcc.gov/Daily_Releases/Daily_Business/2017/db0620/DOC-345438A1.pdf
FCC process overhaul