May 30, 2016 06:43 AM
NYTimes vlog

WSJ vlog


[It is amusing to note that in the above pair of videos the left of center NYTimes is more defensive of the cellular industry than the right of center WSJ which seems to find this study to be a major turning point.]

Last week the National Toxicology Program released a report requested by FDA. The National Toxicology Program is an interagency program established in 1978 to coordinate toxicology research and testing across the Department of Health and Human Services. It is a partnership of 3 agencies:

National Institute of Environmental Health Sciences (NIEHS)
The U.S. Food and Drug Administration, primarily through its National Center for Toxicological Research (NCTR/FDA); and
National Institute for Occupational Safety and Health of the Centers for Disease Control and Prevention
Here is summary of the report from
Scientific American:
The researchers found that as the thousands of rats in the new study were exposed to greater intensities of RF radiation, more of them developed rare forms of brain and heart cancer that could not be easily explained away, exhibiting a direct dose–response relationship. Overall, the incidence of these rare tumors was still relatively low, which would be expected with rare tumors in general, but the incidence grew with greater levels of exposure to the radiation.
Let us also point out that actual RF exposures from non voice use of cell phones and voice use with the speaker in the handset is much less because of distance. Indeed, Bluetooth earpieces are increasingly common and that also decreases actual exposure. In 2010 there was the surprising news that
voice use of cell phones was actually decreasing
! We could not find recent data to confirm that but CTIA's 2015
Annual Survey Report
shows the following related data:

So while data use of cell phones is skyrocketing, in 10 years the total number of voice minutes has only increased 93% even as the number of devices has increased 82%. Voice minutes is not a dynamic growth industry! Considering likely increased use of Bluetooth, then human exposure to RF fields from cell phones is probably decreasing on the average as data use, further from the body, predominates. Of course, just because average exposure is stable or decreasing, some people may have high exposures under current regulations.

For many years the cellular industry has been hiding behind legally correct statements that their products meet at federal regulations when used properly. For example in 2010 CTIA stated, "In fact, all phones sold legally in the U.S. must comply with the Federal Communications Commission's safety standards for RF emissions. According to the FCC, all such compliant phones are safe phones as measured by these standards."

Legal sources in the cellular industry have told me that if there is ever evidence that their products cause a pathological health effect of any kind then this time of continuing statement can be used as a defense to avoid or minimize liability. Thus it is logical for the industry to deny any risk and hide behind federal standards and say that nothing else is need. Thus the industry tried mightily to block Chmn. Kennard when he decided around 2000 that the SAR ratings of various cellphone models should readily accessible to the public. The information was already in public files on the voluminous FCC website but very difficult to find. Senior FCC staffers friending to the industry argued to Chmn. Kennard that that making the data public would require a large investment in software changes to the website that was not affordable. These industry friendly senior staffers were not pleased when I spent a day at the FCC Lab and discovered a way to make the information much more readily available without any new software and with negligible increase in staff processing time.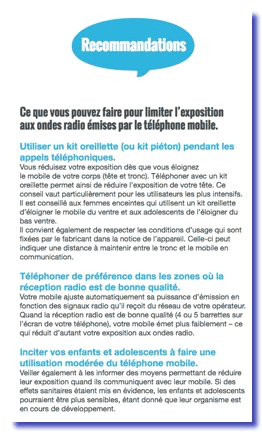 While one can understand this bureaucratic approach of the industry, it is more puzzling why FCC tolerates it and let's the industry effectively edit the agency's statements to the public on the subject. The document shown at left comes from the website of CTIA's French counterpart la Fédération Française des Télécoms (FFTélécoms). The last time I bought a SIM card in France, a copy of this statement was included with the new card bu the mobile operator. A far cry from US practice!
The text 0f this is unlike any statement on either the FCC or CTIA website as it shows how one might decrease one's exposure to RF fields to minimize risk. Note that similar information for decreasing exposure can be found on the
website
of the Swiss Federal Office of Public Health (FOPH).
The FCC's Canadian counterpart, formerly Industry Canada but recently renamed
,
Innovation, Science and Economic Development Canada has this information on its
website
:

Resources
Recording of NTP briefing on report release
Full report
Scientific American
article on report
Science
magazine
(Statements of the cellular industry will be added when they are available)
UPDATE
After
several tweets
from me observing the continuing silence of
both
FCC and CTIA on the NTP report, at 4:43 PM on June 13th I received from CTIA Media Relations:
Please attribute to a CTIA spokesperson:

"Americans' health is paramount to CTIA and the wireless industry. Since we are not scientific researchers, we follow the guidance of the experts when it comes to cellphones and health effects. According to the U.S. Food and Drug Administration (FDA), World Health Organization (WHO), American Cancer Society and numerous other international and U.S. organizations and health experts, the scientific evidence shows no known health risk due to the RF energy emitted by cellphones. As the FDA states on its website, '[t]he weight of scientific evidence has not linked cellphones with any health problems.'

"The FCC has determined that all wireless phones legally sold in the United States are 'safe.' The FCC monitors scientific research on a regular basis, and its standard for RF exposure is based on recommended guidelines adopted by U.S. and international standard-setting bodies."