Vic Hayes, Founding Chair of 802.11, Inducted into Consumer Electronics Hall of Fall for Wi-Fi Development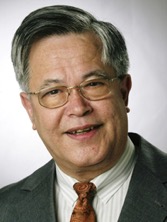 On November 9th in New York City at a
gala party
sponsored by the Consumer Electronics Association, now renamed Consumer Technology Association, Vic Hayes was inducted into the
Consumer Electronics Hall of Fame
. Due to family obligations in Holland, he was not able to attend and asked me to accept the award on his behalf.
The CEA magazine i3 ("It is Innovation") published a long bio of Vic and discussion of his work that is
here.
There is something really unlikely about the whole early history of Wi-Fi. Vic worked for
NCR
, the company once called National Cash Register because that was their main product. Except for a brief foray into PC production, NCR was never in the consumer products business and was a classic B2B firm. (It is interesting that today's NCR has no interest in discussing its role in Wi-Fi and even blocked placing a plaque commemorating Wi-Fi development in one of its buildings in Holland!)
But an interest in the 1980s to sell PC-based cash registers in department stores that could be interfaced to store main frame computers focused NCR's attention on networking. Wired Ethernet was not a practical solution in such stores due to cement floors and frequent rearrangements of counters. Thus in 1987 a search began for a wireless alternative. The group involved, located in NCR's Utrecht Holland lab quickly noticed the possibility of the
May 1985 FCC spread spectrum/ISM band decision
as a home for such networking.
Vic was then the founding chair of the IEEE 802.11 committee that started with a handful of members and went on to develop the ubiquitous 802.11 standards that we expect everywhere we go. Vic coauthored a book on how this all came about and I strong recommend it.
Congratulations to Vic on this well deserved honor!